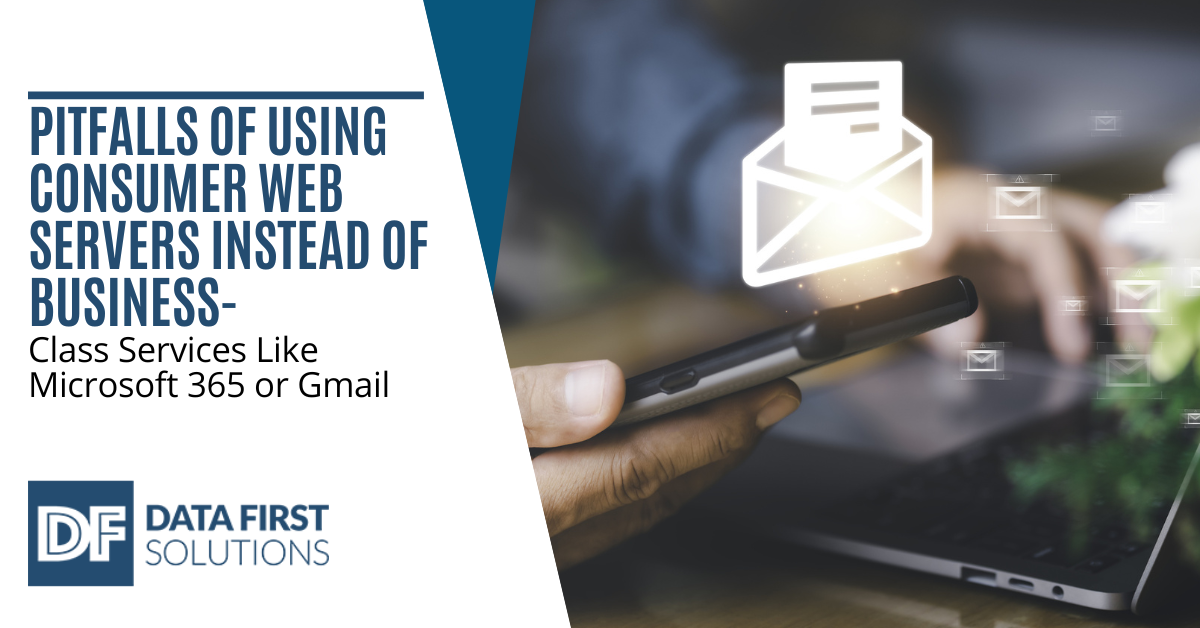 Email is ubiquitous for connecting businesses with their
partners
, employees, and customers. From sending correspondence to vital documents, email is critical for many parts of business operations. Because of this, choosing the right email system for your business is essential.
Unfortunately, not all email systems are created equal.
While consumer-level systems, such as web server-based email, may be appealing from a cost perspective, they often fall short in terms of reliability, security, and features. This can lead to severe consequences in terms of reliability, compromised data, costs, and time wasted.
Reliability
Business-class services typically offer greater uptime and reliability due to their robust infrastructure and redundant systems. This ensures emails and documents are delivered without fail. This may be the single most important factor to consider when choosing an email system for business use. If the system goes down, productivity grinds to a halt.
As an industrial entity, it is especially important to find a system that won't leave your employees and customers out in the cold when they need to communicate. One missed communication could be all it takes to lose a valuable customer.
Security
Naturally, security is another crucial bullet point to consider. Business-grade email services offer real-time threat protection, anti-spam and anti-malware technology, encrypted backups, and other control measures to protect against threats such as malware, ransomware, and phishing.
Consumer services often lack these security features and can leave your business open to legal and financial risks due to stolen identities and breaches.
Obviously, not the optimal scenario for any business, regardless of size.
Missing Features
Many business-class services such as Microsoft 365 or Gmail For Business offer additional features such as authentication, data control, and integration with other applications. This all allows for greater control and efficiency that may be otherwise unavailable with consumer-grade services.
Some of these additional features that may not be in a traditional web server include:
Greater Data Control

: Allows for easy data management and compliance with data privacy regulations.

Integration with Office Applications

: Business-grade email systems allow for easy integration with Office applications, allowing for easy document sharing and collaboration.

Advanced Security Features

: Advanced systems offer security features like two-factor authentication, encryption, and real-time

threat

protection.

Multi-User Support

: Systems in place which allow for multiple users simultaneously. This makes it easier to collaborate and manage the day-to-day operations of an organization.

Customer Support

: A higher level of customer service and support than consumer-grade web servers. If you're working with sensitive data, having access to a well-trained customer service staff is invaluable.
At the end of the day, it may be worth the additional cost to save yourself the headaches associated with using a consumer-grade web server instead of a business-grade system.
Not having to worry about reliability, security, or added features can be a great way to increase your team's efficiency and effectiveness.
Cost Savings At A Cost
When it comes to email, it's important to note that a typical web server would not be the best choice for a serious business. While there may be cost savings, they may not be enough to offset the issues associated with reliability, security, and missing features.
For business use, it will always be better to go with a business-grade system such as Microsoft 365 or Gmail For Business, as they offer greater reliability, security, and features that may be crucial to the success of your business.
Ultimately, the decision is yours and depends on the needs of your business. But, if you're looking for a dependable, secure, and feature-rich web server, you should consider a business-grade system instead of a consumer-grade web server.
Get Support For Your Company's IT Management
Whether you are managing a business-grade email system or a consumer web server, proper IT management is essential for keeping operations running efficiently and securely.
At Data First Solutions, we have experienced technicians that can help manage your organization's IT needs. From general IT management and backup solutions to email, server, and cloud solutions, we are here to ensure that your business's operations are running smoothly.
Not sure where to start? That's where we come in.
Our cybersecurity experts are on hand to help you become more cyber-resilient. Why not get started with a free Cybersecurity Assessment to see how you're doing with your IT security?
Contact us today!