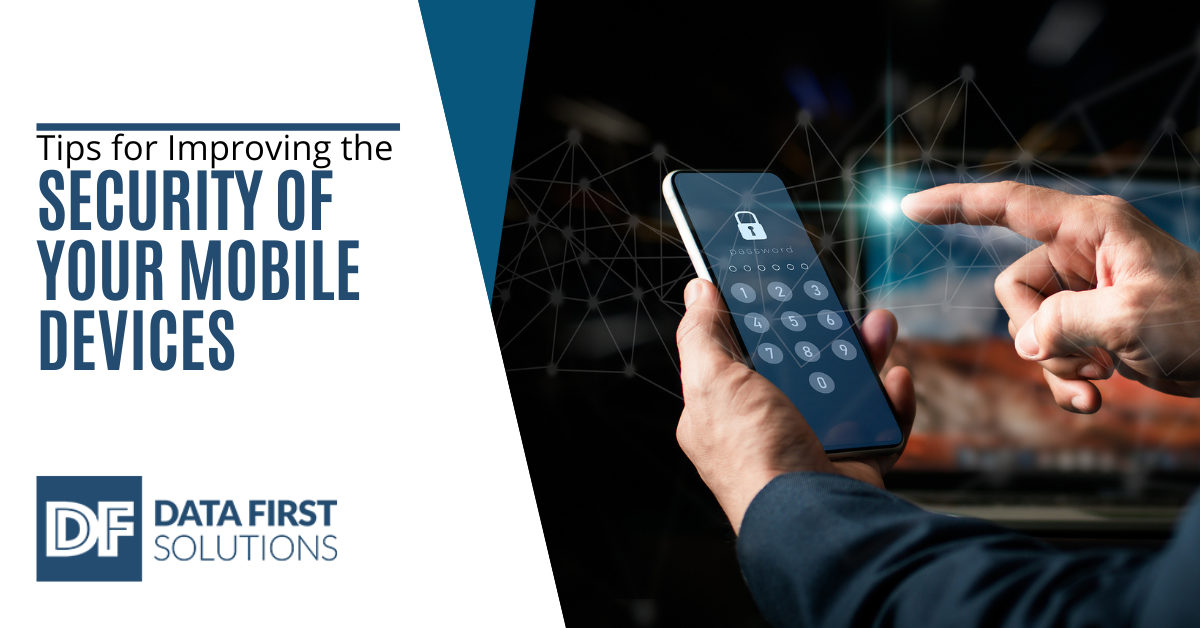 Mobile devices like smartphones and tablets have become a mainstay in companies of all sizes. These days, it's common for employees to use their mobile devices for work more than desktop computers. While this might seem unbelievable, just think how often employees check internal communications through mobile applications like Teams or Outlook, or edit documents on the go with Google Docs or Dropbox. 
It's no wonder that Microsoft research shows that 80% of work is conducted on mobile devices. However, despite the fact that mobile usage in the enterprise is booming, security is lagging behind. For example, research indicates that at least half of mobile devices used for work purposes still use old, outdated operating systems. This is a security nightmare; outdated operating systems are full of vulnerabilities that hackers can exploit. 
But that's just one security issue associated with mobile devices. There are other things to consider: mobile malware, lost devices, data theft, unsecured WiFi networks, misconfigurations and much, much more. 
Of course, prohibiting your employees from mobile devices isn't the way forward. With the rise of bring your own device (BYOD), employees will use their mobiles for work purposes whether or not you allow them too.
Moreover, with the advent of technology like 5G and even more amazing smartphone capabilities coming out, it's safe to say that mobile devices are the future of workplace hardware. With that in mind, it's vital your organization takes a proactive approach to securing these devices from the myriad of threats out there. 
Tips For Improving Mobile Device Security 
So, how do you go about enhancing the security of the mobile devices your employees use? Follow this handy checklist. 
Put In Place Policies For Mobile Device Usage 
In the case of both employee-owned and company-owned devices, you need a mobile device policy that dictates your expectations around how employees should use their devices, and handle the sensitive data stored on the applications within them. 
Your mobile device policy is all about education; if your employees don't understand the cybersecurity risks associated with their mobile devices, then they won't be careful. Alongside implementing a mobile device usage policy, you should also deliver regular training to your employees, so they can ask questions about the policy and learn about your requirements more dynamically. 
Deploy A Mobile Device Management Solution 
A mobile device management solution like Microsoft Intune is amazing for reducing the security and compliance risks associated with BYOD and mobile working. These applications give you much-needed visibility and control over how employees use their mobile devices for work purposes, enabling you to: 
Control device access to certain networks and applications 

Push out security updates so your employees don't have to remember to upgrade their operating systems 

Implement remote wiping capabilities in the event a device is lost or stolen 

Prohibit devices from accessing, downloading or modifying certain corporate resources 
One important thing to note with MDM is that not all solutions are created equal. You need a tool that carefully balances security with employee privacy. We can help you find a solution that is not invasive yet effective at maintaining data security. 
Patch Devices As Soon As Possible
As we've already noted, regularly updating devices and applications is vital to maintaining security. You see, these updates don't just have performance and bug fixes, they also contain essential security patches that protect devices and applications from exploitation. 
Unfortunately, many employees don't realize just how important patching is, so they click the 'remind me later'. You can combat this by putting instructions about the importance of installing updates in your policy, and hacking it up with an MDM solution that auto-updates on your employees' behalf. 
Back Up All Corporate Data In The Cloud  
Another notable risk associated with working from mobile devices is the risk of loss or theft. These devices are highly portable and therefore likely to be used in numerous places. However, the more places a device goes, the more opportunities there are for someone else to steal it – or your employee to accidentally leave it somewhere. 
There's also the risk of devices crashing or being broken. In all of these circumstances, making sure to regularly back up device data is crucial. Otherwise, you may lose precious information without any way to get it back! 
Bolster Security With Anti-Malware Technology 
As with all hardware, hackers would love to infiltrate your employees' devices with malware or viruses. These sneaky pieces of code can trigger ransomware attacks, spy on your users and siphon off precious data. 
To combat this risk, implement antivirus and anti-malware protection on your employees' mobile devices. 
Ready To Supercharge The Security Of Your Mobile Devices?
Want to create a mobile device cybersecurity strategy, but don't have the internal resources to get started? Data First Solutions' goal is to provide you with the best cybersecurity protection possible, while also keeping your unique needs and budget in mind. Contact us to find out more.