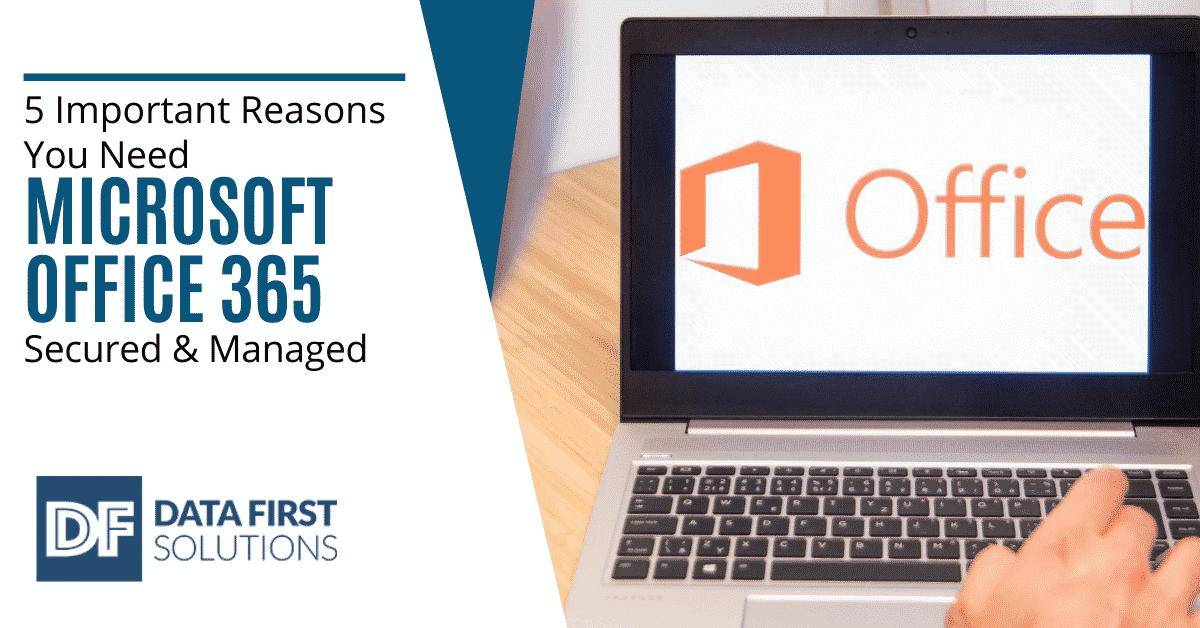 Microsoft 365 (formerly known as Office 365) is one of the most used cloud platforms in the world. The combination of the Office suite with 21st century cloud connectivity tools have made it a main driver for business productivity.
But not all companies get all they can out of the platform because they take a "plug and play" approach, setting up and maintaining their account themselves.
While Microsoft 365 is designed to be easy to use, it's also very powerful and has multiple settings for security, automations, productivity, and more.
Companies that don't work with a professional to set up and maintain their Microsoft 365 account can end up with security problems, data loss issues, and only getting a fraction of the value that the platform has to offer their business.
Why You Need a Professional to Handle Your Microsoft 365 Account
Are you fully utilizing applications like Teams and SharePoint? What about your data… is it being properly backed up or did you mistakenly think that the platform was a backup itself?
Here are some of the pitfalls you can avoid by having an IT and cloud support provider, like Data First Solutions, handle your Microsoft 365 account administration.
Data Loss from the Cloud
Cloud storage is not the same as a cloud backup and recovery application. When files are stored online in OneDrive, users can accidentally delete them or overwrite an important document.
If a cloud account is breached, it can also mean all your files being wiped out by a hacker. If you haven't properly backed up your Microsoft 365 data in a separate program, you can suffer a costly data loss.
One other form of cloud data loss is due to users not understanding the platform's retention policies and losing their data as a result. For example, if a user is deleted and their data isn't properly transferred to another user, it will be purged from the system in 30 days.
Microsoft even states in its services agreement that it recommends users "…regularly backup Your Content and Data that you store on the Services or store using Third-Party Apps and Services."
Misconfiguration of Security Settings
In the last two years (2018 & 2019), over 33 billion records have been compromised due to misconfigured cloud security settings.
Microsoft 365 has a complex security structure, one that is meant to giver users the flexibility to apply the exact types of account security they need.
But users can often get confused when they see settings such as "Enable DDoS protection on Vnet" or "Adaptive application control." So, businesses end up either leaving settings at too low a security level or making a guess that can lead to a problem.
An IT professional understands all the different areas of Microsoft security and can properly configure settings to combat ransomware and other types of attacks, while ensuring user productivity isn't negatively impacted.
Inefficient Data Migration
When companies don't properly set up Microsoft 365 when they first sign up, they can end up with major data migration problems. Some businesses just dump all their files into OneDrive, completely missing the important team and companywide file sharing opportunities of Teams and SharePoint.
It's vital to start with your data in the right place if you want to get the full efficiency value out of a switch to Microsoft 365. This means knowing which data should go into which application on the platform and having data properly secured according to its use.
I

mproperly

Onboarding and Offboarding Users
When companies are handling their Microsoft 365 account themselves, they typically don't have a dedicated expert doing this. It's generally someone on their team that is doing admin work in the platform on top of their normal day-to-day responsibilities.
This can lead to improper onboarding and offboarding of users that can cause problems down the road, such as:
New users not having access to their department's Teams channel or files
Old user emails and files being lost when a user is deleted
Companies paying for inactive accounts because they weren't properly removed
Missing Important Value-Added Update Details
Microsoft is continually adding more features to Microsoft 365, but if a company isn't paying attention, they can end up missing out.
For example, earlier this year, Microsoft added thousands of free stock images, icons, fonts, and videos. This could mean savings for a company that's currently purchasing stock images elsewhere.
The platform is also adding AI-driven features like the new data types in Excel that can shave hours off research time for geographical information.
But you have to know that these features have been added and how to use them to benefit from the upgrades.
Get Help Making the Most of Your Microsoft 365 Account
Don't make the mistake of trying to handle your Microsoft Office 365 account yourself. Data First Solutions can handle backup, security configuration, migration, and more to ensure your Toronto business is getting the full value of the platform.
Need better cloud productivity? Contact us today to schedule a consultation. Call 416-412-0576 or contact us online.