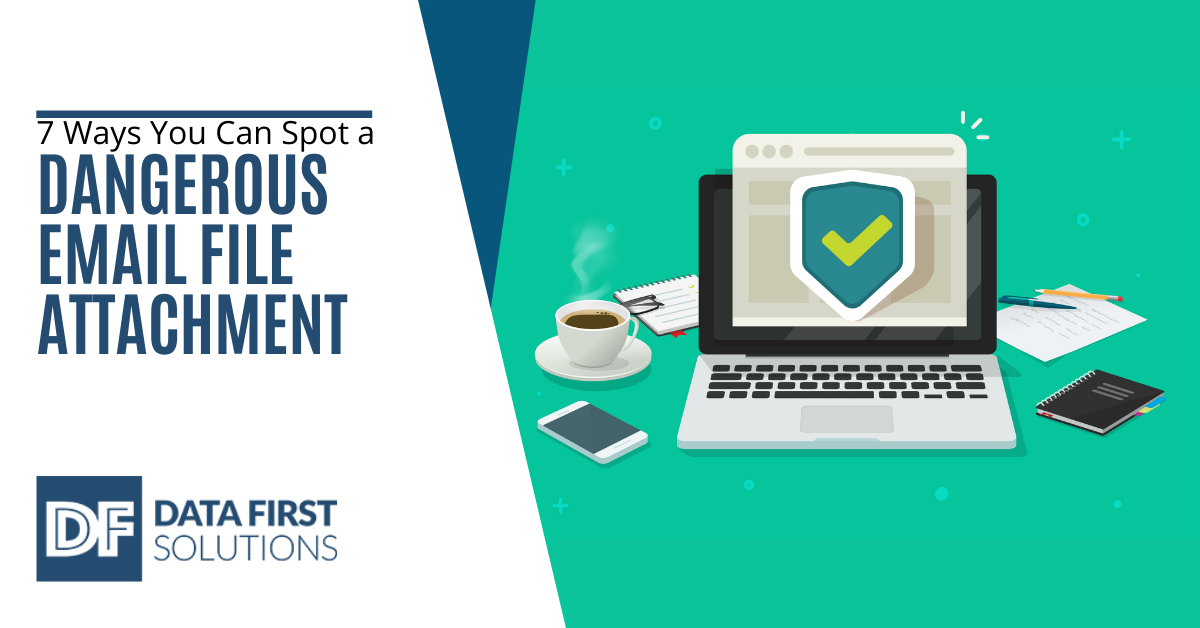 Despite the popularity of cloud storage and the ability to send links instead of file attachments, many people still default to attaching files to their email messages.
It can be easier to grab a file on your hard drive and quickly attach that to a message than uploading a file and finding the sharing link to put in a message. Additionally, some email services will send an email to the "spam" folder if there are too many hyperlinks, which complicates the issue.
It's estimated that email attachments generate approximately 6,000 unnecessary and unsecure files per employee per year.
The issue with file attachments that you receive is telling the good ones from the bad ones. How do you know which are safe to open, and which may infect your device and network with a virus or malware?
Cyberattacks often use recognizable file formats like MS Word (.doc) and Excel (.xls), so users will open the attachment without suspecting that it contains dangerous code.
According to Statista, the most prevalent and blocked malicious file attachments in emails are:
.doc & .dot (37%)

.exe (19.5%)

.rtf (14%)

.xls, .xlt, .xla (7.2%)

.jar (5.6%)

.html, .htm (5.5%)

.docx (2.3%)

.vbs (1.8%)

.xlsx (1.5%)

.pdf (0.8%)
Because malicious file attachments can wreak havoc on a device and company network, it's important to know how to spot dangerous email attachments so they're not accidentally opened.
All it takes is opening one malicious file, to release malware throughout a device, through a network, and to any other devices or cloud environments connected to that same network. 
How to Spot an Unsafe Email Attachment
Comes from an Unknown Sender
One red flag for a dangerous email attachment is if you don't know the sender. A phishing ploy often used is an email stating that a "large purchase order" is attached, and there will usually be a sense of urgency. For example, the sender states they want the order as soon as possible.
The message will usually come from a company that the recipient's business has never worked with, but it's often hard to pass up the promise of a big order. The file attachment may be a Word document infected with malware.
Watch Out for Dangerous File Extensions
Don't open any file extensions that look unusual to you or that are known to commonly be used for malware.
These will typically be file types that you won't normally see or work with. File extensions that are often associated with malware include:
.exe
.jar
.bat
.psc1
.vb
.vbs
.msi
.cmd
.reg
.wsf
These are associated with command-type files that send commands to a specific part of your computer system. While these are not the only types of files that can contain malware, these are some of the easiest to quickly spot.
Avoid Opening Archive Files That Hold Multiple Files
Most people are familiar with what a zip file is. This is a file that can archive multiple other files to make them easier to send. Once received, the zip file is opened and all the files it contains can be accessed.
This is dangerous in an email attachment because you don't know what files the archive has inside until it's opened.
It's best to avoid email attachments of an archive file. The most common types you'll see used by scammers are .zip, .rar, and .7z.
Beware of Strange File Names
Pay attention to the file name in an email attachment. Often this can be a giveaway that this is phishing and should be avoided.
Such as a file name that has unreadable characters, characters in another language, or that says something like "freecash" or "openme."
Always Use an Antivirus/Anti-malware
As part of a good cybersecurity strategy, you should be using an antivirus/anti-malware program that scans all email attachments.
Ensuring any email attachments are scanned, can help you avoid opening a clever fake that is in a common email file format.
Don't Assume Any File Format is Safe
When you get a PDF attachment, do you automatically open that, assuming it's safe and never used for malware?
This is a mistake that can cause your device to get infected. Even PDF files have been known to be used to carry malware and infect devices. Never assume that a specific file format is safe. Scrutinize every attachment.
Carefully Review the Email that Contains the Attachment
You can often spot a potentially dangerous file attachment by thoroughly reviewing the email to look for signs of a scam. This would include things like:
Grammatical errors

Spelling errors

Grainy or stretched out images

A message that doesn't make sense (i.e., you don't have an account with the sender, or you weren't expecting the email)

Email domains that are slightly different than what would be expected
Need Email Security Solutions? We've Got Them!
Data First Solutions offers customized and affordable email security solutions to Toronto area businesses to help you reduce phishing-related risk.
Contact us today to book a free assessment. Call 416-412-0576 or book your assessment online.