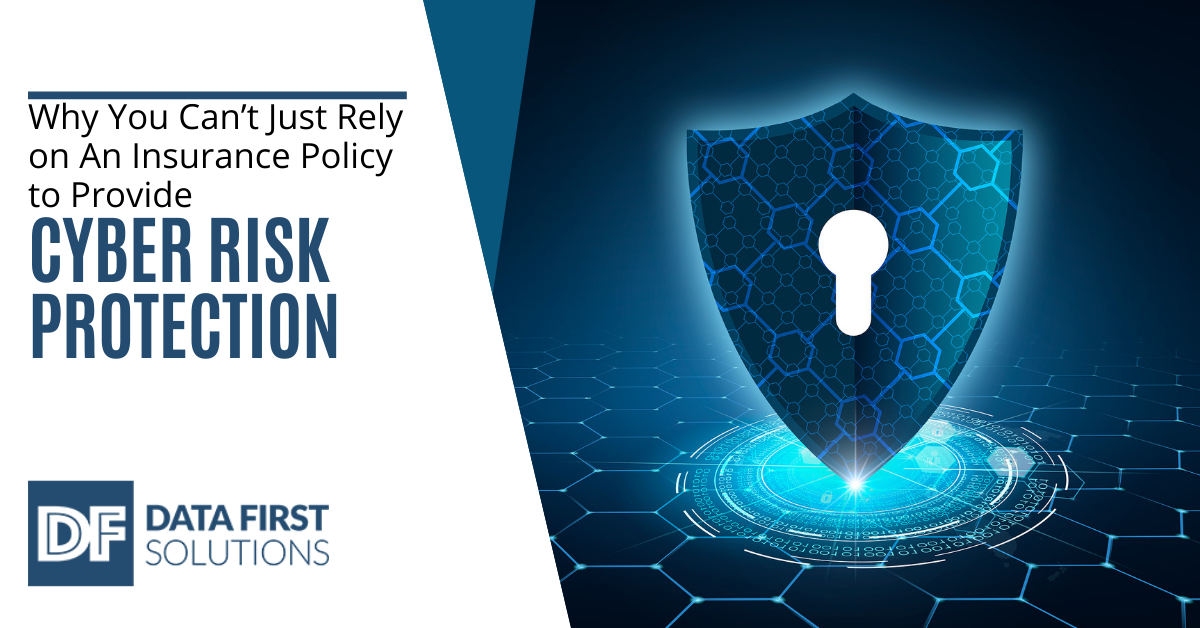 Since the pandemic started in 2020, the FBI has reported a 300% increase in cybercrimes. Businesses face all kinds of malware, phishing scams, virus-infected IoT devices, and brute-force botnet attacks. As if things weren't bad enough, cybercriminals and their methods of attacks are growing more sophisticated with the use of machine learning (ML) and artificial intelligence (AI) to target individuals and businesses. 
Approximately 43% of cyberattacks target small businesses. These data breaches do more than affect the company's computer system or IT team. They harm the company's reputation, not to mention the financial repercussions and the risk to employees' and clients' personal information. Because of this, cybersecurity insurance is becoming a popular option for large and small businesses.  
What Is Cybersecurity Insurance?
Cyber insurance is a product that mitigates the risk of data breaches and cyber-attacks on businesses.  It shields businesses against the costs of internet-based threats to information governance, information policy, and IT infrastructure, which standard insurance and commercial liability policies often exclude. 
Cyber insurance coverage has a similar work model to standard and commercial insurance coverage.  Businesses buy cyber insurance to cover against cybercrimes just the way they buy regular insurance to protect against natural disasters and physical risks. It compensates a company for losses incurred because of a cyberattack.
Is Cybersecurity Insurance Important? Why?
The rising number of cyber-attacks against businesses, networks, users, and devices continues to grow and has also caused cyber insurance to become an essential purchase for all organizations. Cybersecurity insurance is gradually becoming crucial for all companies as the risk of cyberattacks against user grows, devices, networks, and applications. This is because data breach or loss can substantially impact a company, ranging from customer loss to revenue and reputation loss.
4 Reasons Why You Can't Rely on Cyber Insurance Alone
Rigid Requirements
Insurance companies are leaving the market, raising premiums, being selective about the companies they cover (some providers refuse to work with government customers because of the heightened risk), and require detailed information such as a full breakdown of your cybersecurity procedures.
Insurance coverage requirements are growing stricter, and underwriters are now scrutinizing potential insureds to ensure that they have specialized cybersecurity protocols in place. When you have a strong cybersecurity program in place, you will be more prepared, and the chances of being rejected will reduce.
Internal Attacks Aren't Covered
Another reason not to rely solely on cyber insurance is that it doesn't cover losses/attacks that occur internally because of a disgruntled employee, intern, or other malicious actors. This also means a breach due to an employee's negligence, such as losing a company device filled with valuable data, or falling for a phishing scam, is not covered by many policies.  
Limits on Choice
Most cyber insurance policies restrict how businesses respond to cyber-attacks. It may for example pay for credit monitoring services to cover leaks of protected health information. But a leak of medical information would allow the patient's medical identity to be monitored instead of their credit.
It also limits the type of vendor a business can use when responding to a breach. Most companies already have an existing relationship with a provider. Still, certain cyber insurance policies will ask the business to use a pre-approved vendor, which can heavily impact the quality of response to the breach. For example, using a foreign call center to handle a data breach, including sensitive information, could be inadequate.
Carriers are Dropping Coverage for Ransomware Ransom Payments
In the eyes of insurance carriers, payments of ransom to ransomware attackers have gotten out of hand. Many businesses that have cybersecurity insurance will opt to pay the ransom, hoping they'll regain operations faster (they know the insurance carrier will pick up the tab).
Now carriers are beginning to drop this type of coverage, leaving companies at much higher risk of large losses in the case of a ransomware attack if they don't have the right backup and recovery solutions in place.
It Doesn't Replace the Need for Data Protection
Companies still must strengthen their security and internal privacy procedures even if they have the best cyber coverage. Prevention is after all still the best defense against data breaches. Therefore, every company should carry out regular security and privacy risk assessments and take steps to close any discovered gaps.
Conclusion – Is cyber insurance enough? 
As today's digital landscape grows more complex, businesses from different industries are starting to recognize the importance of cyber insurance. 
Is that, however, enough? Short answer, No.  Although having a cyber insurance premium can help cover the costs of a data breach or other major security incident, it should never be considered a true solution.
Cyber insurance, like any other sort of insurance, has its limits. Before investing in cyber insurance or other forms of data breach prevention, businesses should thoroughly investigate all available options. 
Need help upgrading your data protection strategy? Then Call Data First Solutions Now! Reach us at (416) 412-0576 or through our Contact Form.