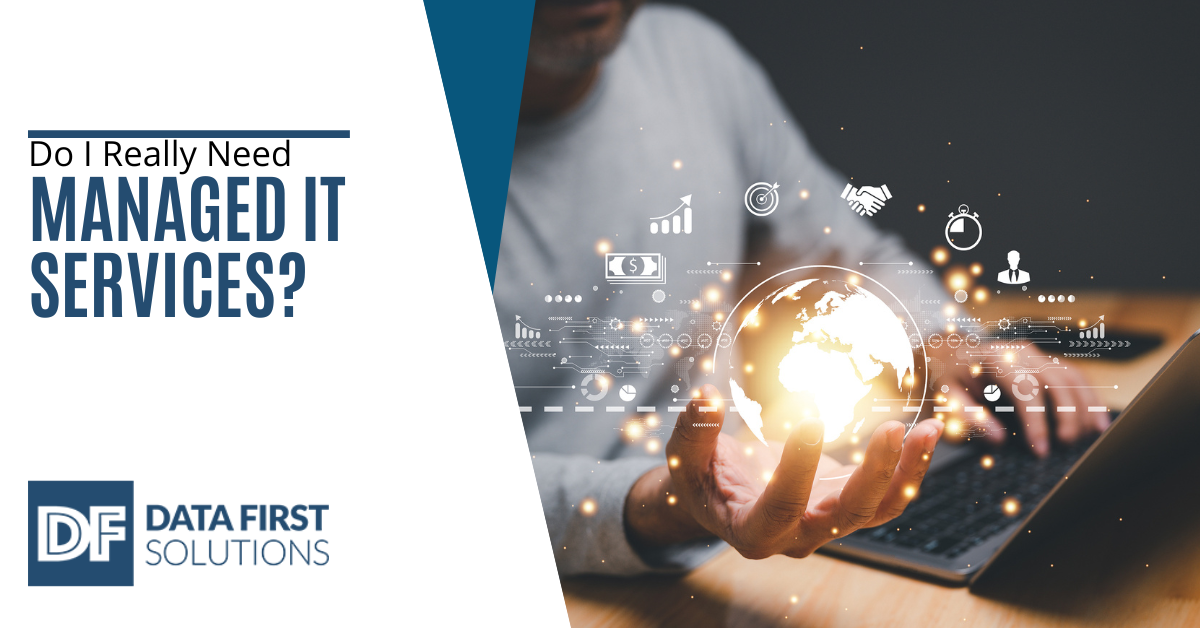 When the topic of having managed IT services is brought up to many business owners, they often ask, "Throughout the COVID period and now, I didn't need much of managed IT service, why should I need one now?" or "Why do I need a managed IT service when having ad-hoc seems to work just fine?" The answer is simple.
Although you believe your technology infrastructure is sufficient and that you can make do with what is necessary, it's important to note that in today's fast-paced digital landscape, with each day that passes, technology is evolving, and new capabilities and cyber threats ever increasing, managing IT systems can be complex and time-consuming. As a result, the need for a more proactive and forward-thinking approach to managing IT infrastructure is essential.
This is where managed IT services come in. Managed IT services are much more than it seems. Managed IT services offer businesses a comprehensive solution to their IT needs, combining expertise, cost-effectiveness, enhanced security, and proactive support.
Today, managed IT services have become a highly sought-after practice among organizations. According to Global News Wire, the managed IT services market is expected to reach $393.72 Billion by 2028. It is also estimated that at least 60% of businesses will depend on managed IT services by 2025. This shows how important managed IT services are to business operations and growth.
If you have ever dismissed the idea of outsourcing the management of your IT support to a third-party provider, either due to the belief that your existing IT structure is enough or due to cost, now is the time to reconsider. This article highlights what are managed IT services and why you need them.
What are Managed IT Services? 
Managed IT services refer to outsourcing an organization's IT management and support system to a specialized third-party provider called a Managed Service Provider (MSP). These providers provide a wide range of IT management services, such as network monitoring, data backup and recovery, cybersecurity, software updates, on-demand support, help desk support, and more.
Because the managed IT services provider (MSP) takes on the responsibility of proactively monitoring, maintaining and managing the client's IT infrastructure, businesses can focus on what is important, ensuring smooth operations and minimizing downtime.
The Benefits Managed IT Services Offer Your Business
Here are some benefits of managed IT services to your business.
1. Enhanced IT Expertise
You might say my IT team is also an expert in their field. While that is true, there will be limits to what they can do for your business IT infrastructure. 
Managed Service Providers are experts in providing excellent managed IT services to businesses. Armed with the latest knowledge, certifications, trends, and experience, they have what it takes to handle a wide range of IT challenges, especially cyber-attacks, and enhance cybersecurity.
2. Proactive Monitoring and Maintenance
Your IT teams will not be available to monitor and maintain your business and IT infrastructure 24/7. However, with managed IT services, that is what you get. Using advanced monitoring tools and technologies, managed service providers ensure IT responsibilities are covered 24/7. 
By continuously monitoring systems, they can easily mitigate risks, prevent costly downtime, identify and resolve potential issues before they become major problems, and ensure maximum uptime. This means if there are cases of slight glitches, cyber-attack, data breaches, or power surges because the MSPs are proactively monitoring your IT infrastructure, they will ensure these risks do not cause significant damage to your business.
3. Cost Savings
It is well-known that the cost associated with maintaining a dedicated in-house IT team or a single IT staff is huge. These costs include salaries, training, benefits, insurance coverage, and the need for continuous hiring to address turnover. While it is not bad, you may be spending more than expected. This is what managed IT services reduce.
One common misconception about managed IT services is that they are expensive. On the contrary, outsourcing IT services to an MSP can save costs or implement a co-managed IT solution. By partnering with an MSP, you can eliminate the need for in-house IT personnel, thereby reducing labor costs, training expenses, and overhead associated with maintaining an internal IT department. Additionally, managed IT services have flexible pricing models, allowing you to pay for only the needed services. This makes it a cost-effective solution. 
4. Scalability and Flexibility
There are two things important to growing a business: scalability and flexibility. Managed IT services allow your business to scale its IT infrastructure based on your evolving needs. Whether your business is experiencing growth or downsizing, you can be sure that a Managed Service Provider can help you quickly adapt and adjust IT resources accordingly. The scalability they offer ensures that your business aligns your IT infrastructure with your overall business objectives without significant capital investments.
5. Focus on Core Business Functions
If you have a huge IT infrastructure, managing IT systems can be complex and time-consuming. By entrusting the management of your IT systems to a reliable MSP, you can redirect your internal resources and focus on core competencies that can lead to the growth of your business. Managed IT services give you the ability to have a streamlined line of focus, allowing you to concentrate on strategic initiatives, improve productivity, and drive innovation rather than being burdened by day-to-day IT management tasks.
The Relevance of Managed IT Services for Your Business
Here are a few points to consider regarding the relevance of managed IT services for your business:
Remote Workforce
The pandemic accelerated the adoption of remote work, with organizations transitioning their employees to work-from-home setups. Since then, managed IT services have been vital in ensuring secure remote connectivity, setting up virtual private networks (VPNs), implementing multi-factor authentication, and providing continuous technical support to remote employees.
Cybersecurity Risks
Although cybersecurity has always been an issue, the COVID-19 crisis witnessed a surge in cyber-attacks as threat actors exploited vulnerabilities in remote work environments. Employing managed IT service providers allows you to take advantage of their equipped tools to deploy robust cybersecurity measures, including firewall protection, intrusion detection systems, vulnerability scanning, and employee cybersecurity awareness training in your business. Best of all, they stay updated on the latest security threats and employ proactive measures to safeguard your business against potential breaches, data loss, and unauthorized access.
IT Infrastructure Optimization
Managed IT services can help your business optimize its infrastructure by identifying bottlenecks, implementing performance enhancements, and recommending technology upgrades. This proactive approach ensures that your business has reliable and efficient systems to support its operations, regardless of external circumstances.
Future-Proofing Technology
The rapidly evolving technology landscape requires your business to adapt and stay ahead of the curve. This is one area managed IT service providers can help keep you up-to-date on emerging technologies, industry trends, and regulatory changes. They can provide strategic guidance on technology investments, ensuring your business makes informed decisions that align with its long-term goals and stay competitive in the digital age.
It is Time to go the Way of Managed IT Services.
Data First Solutions has an expert team of technology experts to help your Toronto business in any capacity, and any way you would like support in your in-house team.
Contact us today to know more about our managed IT services. Call 416-412-0576 or reach out to us online.