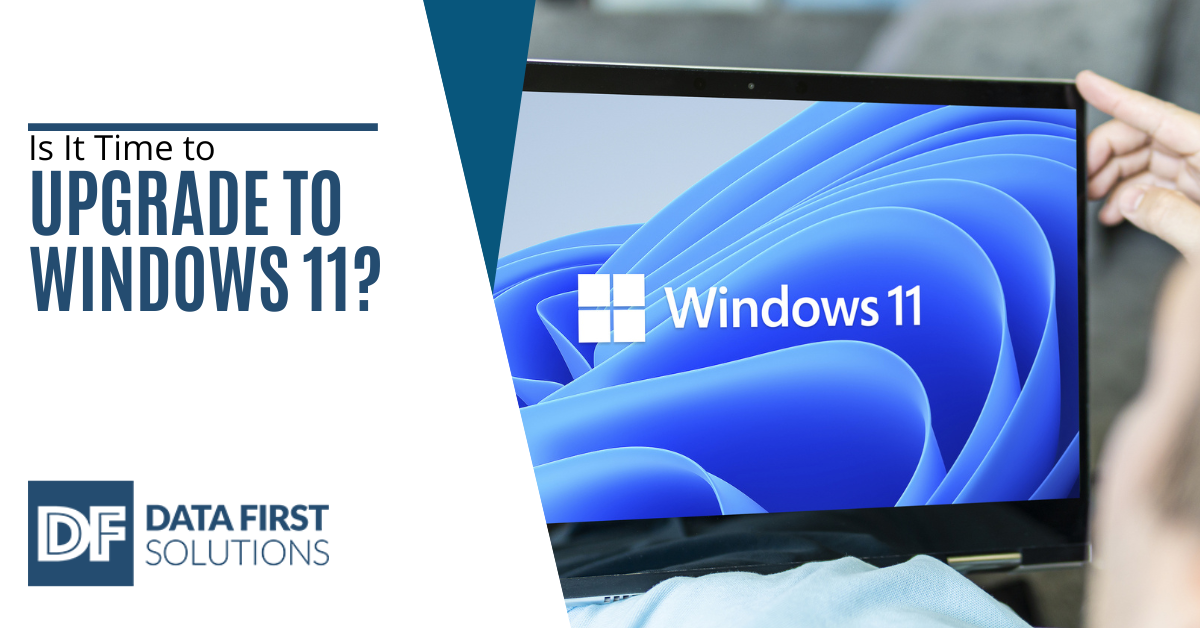 Windows 11 has been out for nearly a year now. If you've been waiting for the bugs to be worked out of the new OS, you might be wondering if it's okay to upgrade. After all, it's usually recommended to keep your operating system upgraded to reduce the
risk of a hack
. 
The novel and much-anticipated product from Windows brings a slew of new features to PCs and other devices that utilize Windows. Windows version upgrades have historically been hit or miss; although Windows 10 was very successful, it has to be said. 
And what's more, people are warming up to the new OS after a slow start. A recent report found that 19.6% of Windows devices are already running Windows 11.
Windows 11 has some perks to excite users. Therefore, it is not surprising that several questions are being asked, the most important of which is whether or not it is time to upgrade to Windows 11. This article will help you make an informed choice.
Windows 11: What You Should Know
Windows 11 is Microsoft's most recent major release. After a few months in beta, Microsoft began releasing Windows 11 to users on October 5, 2021. This version lacked a few capabilities, including native Android emulation, which Microsoft introduced in February 2022. Furthermore, the release version was rolled out in stages, so it may take some time for this update to get your copy of this new product for your computers.
Windows 11 is a free update; however, the minimum system requirements are significantly higher than in the past. Microsoft affirms Windows 11 is its most secure OS yet; however, this comes at an expense – backward compatibility. 
There are techniques to manually install Windows 11 on incompatible computers. This includes ignoring future updates through Windows Update or changing the Windows 11 ISO file to eliminate security checks. These are not advisable.
Here are the endorsed system requirements for Windows 11:
1GHz or faster CPU with two or more cores on a suitable 64-bit processor or System on a Chip.

4GB RAM.

64GB ROM or greater. 

(TPM) Trusted Platform Module 2.0.

HD display and 8 bits per color channel.
Comparing Windows 10 with Windows 11
Before we go into whether it is time to upgrade or not, we should mention the differences between the old and new Windows. While there are several subtle changes impacting everything from the design of menus to the position of certain options, the following are the key changes worth noting:
New Start Menu
The Windows 11 Start button now opens a more straightforward and better-streamlined Start menu in addition to being in the middle of the taskbar by default. However, you can take it back to the left-hand side (as some people prefer) in Taskbar settings. The search bar now sits atop two primary, customizable sections: one for files/apps Windows 11 suggests for you (like recently opened files) and the other for pinned programs.
Redesigned visuals
Almost every aspect of Windows 11 has been redesigned to conform to Microsoft's Fluent Design language, which favors centered text, rounded edges, and larger, more vibrant icons. It is easier to use the interface with a touchscreen device and adapts much more smartly as you connect or disconnect external screens. Also, some Windows programs now have the Dark Mode feature.
Native Android App Support
While Windows 11 is not fully operational, Microsoft has claimed it will run Android apps natively owing to Intel's Bridge Technology. We can look forward to a more synchronized workflow between Android and computer apps. 
New Window/Desktop Management Tools
One new feature in Windows 11 is Snap Assist, which makes organizing windows on your desktop much easier. Simply hover the cursor over the maximize/minimize button in the top-right corner of any program window, and Windows 11 will display a selection of alternative window configurations for you to pick from. You can also utilize the newly introduced Task View button (found on the taskbar) to arrange and move between several opened Desktops, which may be a helpful way to create distinct sessions.
Looking back, we can safely affirm that Windows 11's overall design is balanced. Older version users might get sucked into some issues – that is not unexpected – and new users will quickly get used to it. One thing we are sure of, however, is that it will be better than the Windows 7/8 transition. 
In fairness, upgrading your system to Windows 11 should be based on your system usage and if your favorite applications are compatible with it. However, this can change in the coming months, as Microsoft claims that the major version update of the new OS will come later this year. 
Seeking to Upgrade Your Systems with Windows 11? Data First Solutions is here for You.
If you need to upgrade your systems to Windows 11, you can trust us to help you with a smooth transition. 
Data First Solutions can check out your hardware and software to verify Windows 11 compatibility and ensure the process is stress-free for all your devices. 
Kindly contact us today to schedule a free consultation.