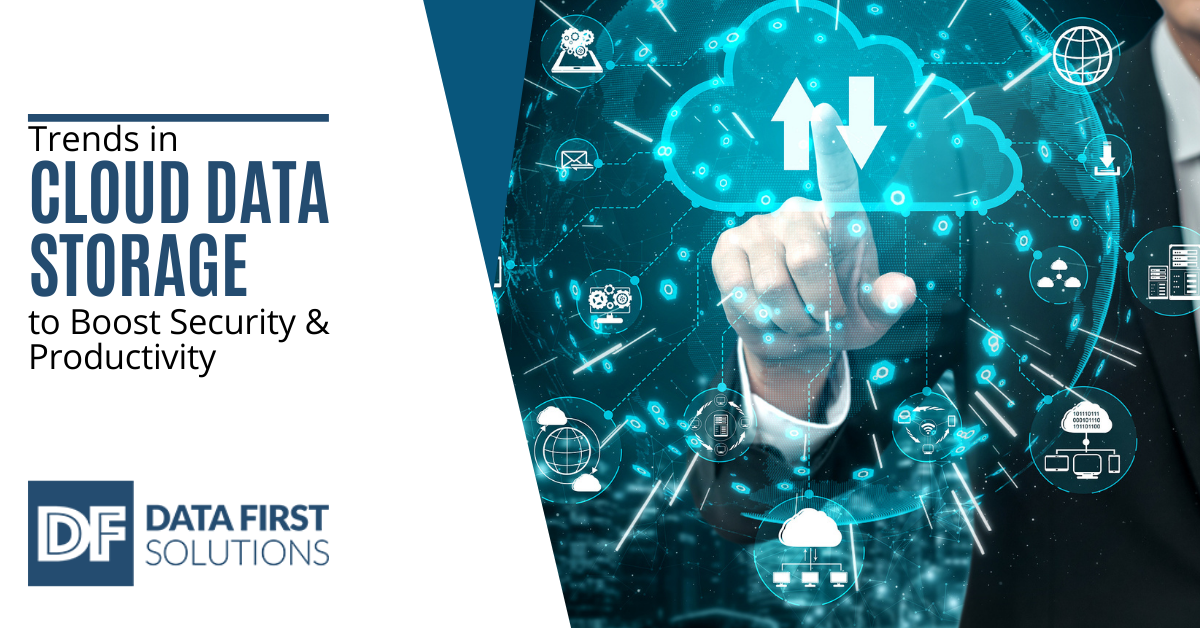 Between 2021 and 2028, the cloud storage market is expected to grow from 76.43 billion to 390.33 billion, an increase of
over 410%
. This underscores the importance of cloud data storage and how it's only going to become a more vital part of operations for all organizations. 
Cloud storage was one of the first online services to become widely available and adopted. Without it, information would still be siloed across various hard drives, and difficult to share and access.
Storing files in a web-based environment allows for easy collaboration, better file management, and the ability to access files from any device at any time. 
With so much relying on cloud data storage, the industry continues to evolve to take advantage of technology advances to improve user productivity and safeguard systems from threats.
There are several trends happening in the cloud storage sector that you'll want to know about so you can leverage them for your own organization. 
Automation, AI & Machine Learning
One of the biggest drains on productivity throughout the week is the need to search out files and information. Cloud storage quickly becomes messy and unorganized unless you have an administrator constantly cleaning up misfiled documents and duplicate folders.
Studies estimate that it takes as many as 8 searches to find the right document and that employees spend an average of 1.8 hours per day (almost 10 hours per week) simply searching and gathering information. 
Beyond file searching, other time-consuming tasks connected to file storage include ensuring documents are captured in the right folders from various systems and provisioning accounts.
These are all activities that users are going to get some help with thanks to automation, AI, and machine learning being utilized within cloud storage services.
Your cloud data storage will soon be able to do things like:
Organize your files based on rules and behaviors

Obtain and import data (aka Ingestion)

Provisioning

Cleaning up unneeded files, such as duplicates
This promises to improve productivity and reduce the dedicated time required to administer an account.
Ransomware Detection & Recovery
It's no secret that ransomware has been a growing problem for years. It's a big threat to business continuity and data loss in both on-premises and cloud storage.
In 2020, losses from ransomware nearly tripled, and attack volume rose by 20%. This is an area that cloud storage providers have identified as a top priority to address.
Look for them to do this by adding new features such as:
Ransomware detection:

The ability of systems to detect and stop the types of unauthorized file changes that happen during a ransomware attack.

Ransomware recovery:

Cloud storage services are building in redundancy that will back up files and keep them separated from live cloud storage, so they can be recovered quickly in the case of an infection.
Note: Not all ransomware security features will be enabled by default, so it's a good idea to work with your IT professional to review cloud security and enable the best configurations for your business.
Edge Computing for Faster Response
If your company operates in Toronto and the server holding your cloud data is in Australia, you will most likely have more issues with lag time and system reliability than if that data was stored on a cloud server within Canada.
It's also more expensive for cloud service providers to transmit data over long distances, which has led to the rise of "edge" computing. This means that cloud providers put resources closer to the users that need them by strategically locating multiple data centers around the world.
The need for edge computing approaches is becoming big in cloud data storage. Demand continues to increase as companies collect and create more data each day 
When signing up for a new cloud storage service, be aware of the address you use, as some companies are officially registered in a different place than the bulk of their employees. Your sign-up address may be used to provision your service on a server closest to that location.
Joining of Cloud Storage with Other Cloud Services
When cloud storage was first introduced, it was a standalone service and has largely stayed that way. There are certain cases, like Microsoft 365 and its connection between Teams, SharePoint, and OneDrive that integrate storage with other programs, but this hasn't been the norm.
This is changing as companies look at the next step in cloud storage evolution, which is to integrate it into a full cloud ecosystem. One that will automate data sharing and tasks across all cloud resources, including storage.
To learn more, you may want to keep an eye on two legacy hardware developers getting into the cloud in a big way. HP recently announced its Data Services Cloud Console and Dell announced its APEX Cloud Services, both of which are designed to unify data activities in the cloud environment. 
Are You Using the Cloud Efficiently?
Your cloud environment can easily become complex and clunky as you add more services. Data First Solutions can help your Toronto area business with a cloud review and optimization session.
Contact us today to book a free assessment. Call 416-412-0576 or book your assessment online.